R&S Tax Service
We offer 42 years of tax, accounting, and audit experience to our clients. Doing business as R & S Tax Service Inc, we are a bonded tax service, licensed as a tax preparer with the Internal Revenue Service, and the California Tax Education Council (A-135806) as a registered professional tax preparer.
WHAT WE OFFER:
Tax Professional Expertise
We have extensive training and work with current technology to ensure your taxes are e-filed correctly. With training in personal, small business, tax strategies, and Sub-S corporation tax law, we are licensed by the IRS, and CTEC,

www.ctec.org

, a California state agency for tax professionals. Don't let an unlicensed tax preparer make a mess of your taxes. We offer an standard of excellence being a licensed public accountant.

With 4 decades of tax experience, from multi national corporations to personal taxes, you can depend on us.

We are tax professionals providing guidance and advice tailored, to your occupation or tax situation, to help you maximize your tax refund.
Asking the Right Questions
We know what questions to ask and what information to look for, getting you all the right answers that will minimize your taxes. Take a look at our Tax Questionnaire to get started with R&S Tax Service Inc.
Support and Service
If you receive a letter from the IRS or state, as tax professionals we'll help you no matter how your taxes were done.

Owe taxes? We'll audit past filed tax returns for errors and omissions. We'll also help you set up a convenient payment plan.
Flexibility and Convenience
Our virtual office is open year-round.

We conveniently meet our customers at their business, at a convenient coffee shop, or at their home.

We are experienced tax professionals and will do whatever it takes to meet your specific needs.
Additional Services
For professional accounting systems, we are licencsed Public Accountants offering quarterly reviews of your systems to help meet tax compliance rules and regulations with the IRS.

Need assistance in designing cash flow or capital project budgets? We can design budgets that track for company's financial performance.

Whether you use on-line Quick Books or not, we can design an electronic accounting system that is just right for you.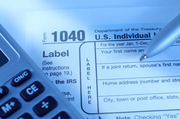 Listing of Internet based resources:
WHAT WE CAN PROVIDE:
Our expertise can provide you the following types of service:
E-filing of electronically prepared federal and state tax returns, starting at $125.00.
Filing part year and nonresident tax returns.

Resolving delinquent multiple year tax returns

Filing business, corporate, or tax exempt returns which include the new electronic Form 990-N.
Want to stay up to date on our tax news; just ask us for a copy of our quarterly newsletter that we mail out to our customers. It's in a PDF format for easy viewing.
WHERE WE BEGIN!
Gather and organize all of your tax-related documents needed to prepare and file your income tax return(s). Use our questionnaire page

to get organized!

Arrange an appointment at your convenience to get your taxes done. Our thorough tax interview involves a series of questions using

Proseries software

to gather all the information needed to complete and file accurate tax return(s).

Contact us today.
Contact Information:
R&S Tax Service Inc
113 Econome Ct.
Folsom CA 95630
Tel. 916-983-6415 ; FAX 866-857-8074 (Toll Free)
Updated: May 6 2017